Caribou
Taking care of home care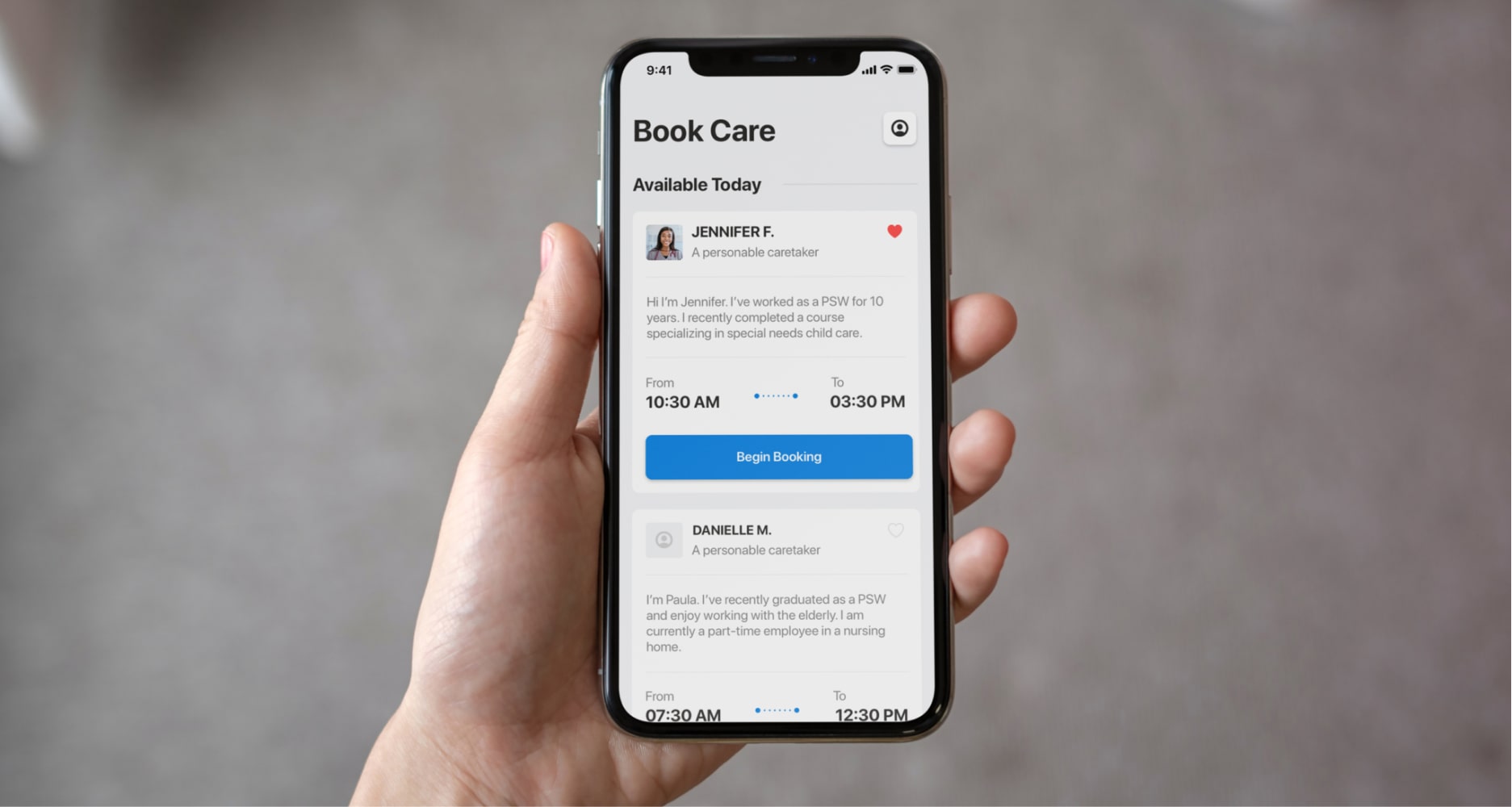 Background
With more and more people requiring in-home health care in Canada, on-call healthcare providers have become a growing necessity. Patients in need can be visited by a personal support worker in the comfort of their own home, making it so much easier to receive at-home healthcare.

However, there are a few growing pains, although personal support is itself an in-demand and growing field, new to the area or to the practice PSWs (Personal Support Workers) can often find themselves with a lack of hours to fit their schedule.

At home healthcare is very much based surrounding relationships built with clients over years, though recommendations within their community and patients & caretakers would often work around their preferred PSW's schedule than pick someone they don't know.
Caribou's goal and challenge with this application is to identify ways in which we can encourage a patient or a care-taker to be treated at home by someone they may not have worked with in the past. Keeping in mind that a patient's relationship with their current Personal Support Worker still and will always come first.
Meet the family members and patients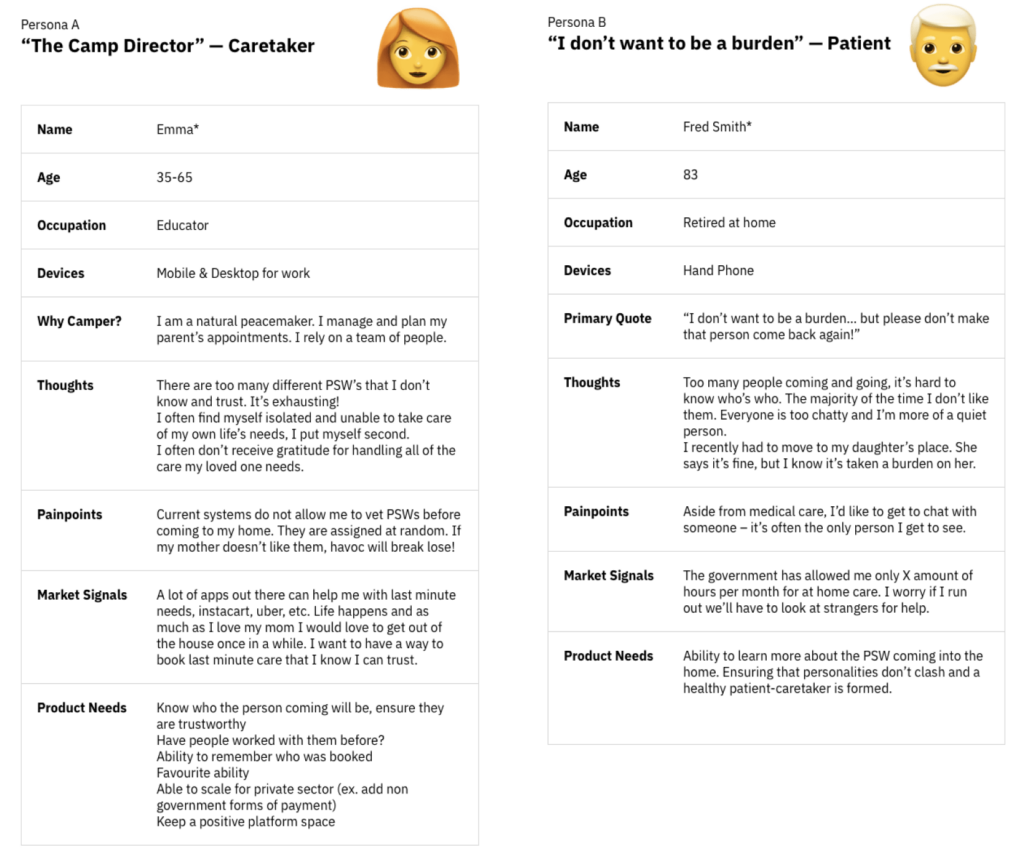 A typical journey
The current landscape is very frustrating to many patients and care-givers as there aren't many options outside of legacy systems, which often include lengthy wait times for approvals and assignments, phone calls left on hold & no real knowledge of who will be coming into your home.
Caribou attempts to solve this need in the market by creating an application to make it easier for patients to request in-home care whenever they need it, and for personal support workers to work whenever they can.
Initial Lo-fi Mockups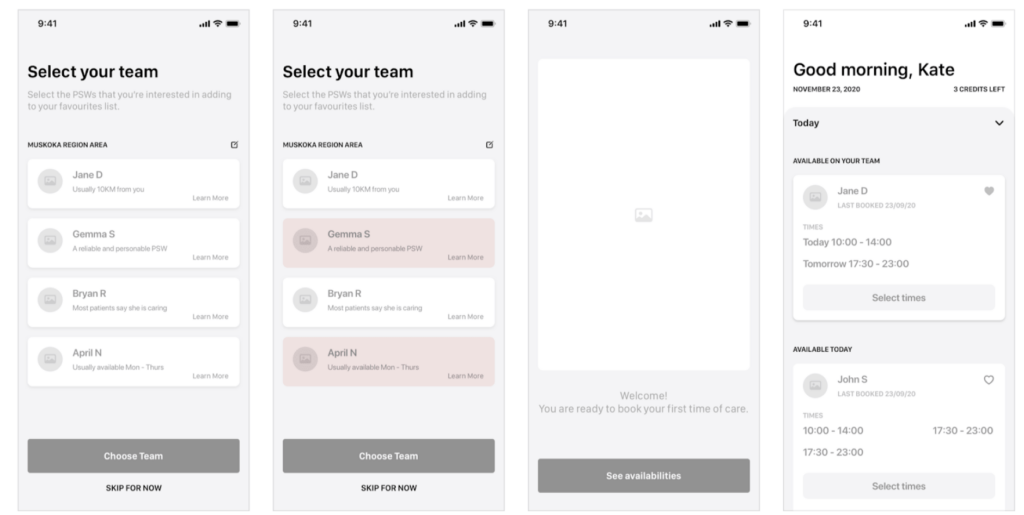 Key takeaways
After speaking with Caribou users and seeing how they work with the current app, seeing what they think of some of the rough and polished wireframes we created with them we realized that:
The name of the PSW was the most important part. This is because patients and caretakers wanted to see if they have worked with them before, or if they are someone they may know
The second most important element was the time, initially we thought since this was meant to be last-minute booking that the time would be the most important, but we found that families would work around the schedule of their favourite PSW.
Trust needed to be established. By adding profiles and photos we could add that extra level of know to the families booking new, or new to the area PSWs. This idea, however, is proving to be challenging with protecting the privacy of the PSWs.
Titles, everywhere. Us young people (heh) are used to a lot of UI patterns that some next actions are second nature. For this particular app, we found that Caribou users: Older people (Caribou's user base median age is around 50–65) tend to read all the info in their screen, they also need clarity as to exactly what page they are on and what the next action will be.
Last but not least, Caribou's UI needed to be very accessible, the text needed to be big enough in the important elements. We needed to have a decent contrast ratio, and big enough cards that would allow users to click the right button and not be overwhelmed by the amount of action that can be taken in one screen.
Renew Pharmacy
A better pharmacy experience